2013 Housing Prices in Retrospect
Another year has come and gone.
in 2012, Napa County saw the greatest increases in property values in the counties we track in California. 2013 couldn't have been more different.
2013 saw significant increases in values in all areas of California that we track. East. West. North. South. Expensive. Inexpensive. Didn't matter. Values rose significantly.
Until July 2013.
After reaching historic lows, interest rates started ratcheting up in May 2013 and that put a damper in the housing markets increasing. In nearly all of the areas we track, value trends leveled out, declined or became volatile, starting in about June or July, consistent with the sharp increases in interest rates.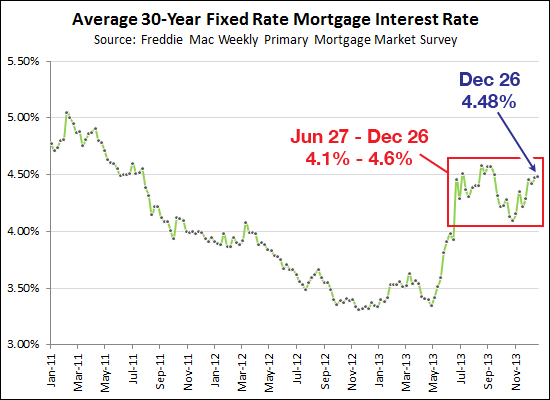 This comes as no big surprise.
What was a little surprising was that the most stable areas, with consistently increasing property values all the way through 2013, with little to no interruptions, are the Central Valley counties, which are some of the more affordable areas of California.
What county increased the most in the 2013 calendar year?
San Joaquin, with a whopping 28.6% increase in median home prices.
Even this county, however, was not immune from the effects of the increasing interest rates, however, it seemed to be only a minor bump and values started to increase again in the last few months of the year.
In calendar year 2013, the county with the smallest increase surprised me.
Santa Clara County.
The peak for Santa Clara was in May at over $890,000. Since then, the average sales price for a home in Santa Clara County was in a fairly narrow range for the rest of the year.
You can see all the counties we chart at:
http://www.goapple.com/Home%20Price%20Stats.htm
What will 2014 bring? Likely more increases in average sales prices and lower volume due to lower inventory. I guess we will find out on January 1, 2014. What do YOU think will happen in 2013? Give me your best crystal ball.
BTW, feel free to share these numbers with your colleagues, clients and anyone else you may feel would be interested in increasing property values.
Apple Appraisal, Inc. provides appraisal management excellence throughout California.
We may not be the biggest AMC. We just want to be the one you like working with the most.